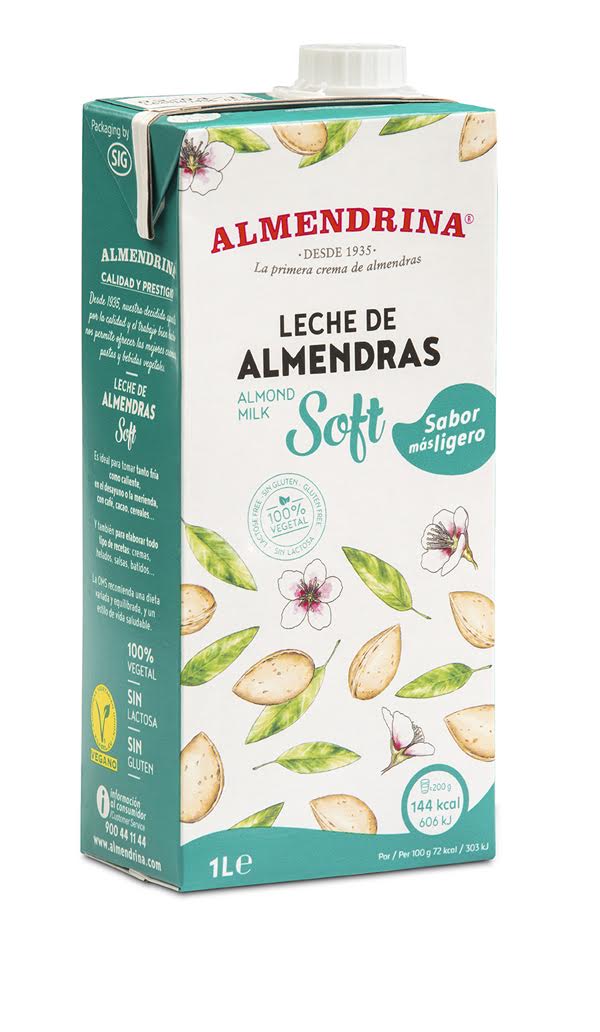 Our almond milk, now lighter
Our almond drink is the perfect accompaniment for any healthy breakfast or snack. It contains all the advantages and flavour of almonds and the right proportions of water and sugar. The milk is made with a selection of the very best organic-grown almonds following an automated production process with rigorous controls that guarantee maximum quality.
The almond is a jewel of the Mediterranean diet, a fruit that gathers and transforms the sun's energy. Almonds primarily provide energy in the form of carbohydrates, but they also contain magnesium that keeps bones and teeth strong and healthy, and reduces stress and insomnia; potassium, which regulates blood pressure and protects the cardiovascular system; phosphorus, which provides mental and physical energy and improves memory; vitamin E, a natural antioxidant; vitamins A and B, calcium, iron, zinc, and more.
Our almond paste is 100% vegetable and appropriate for vegans, recommended for people who are intolerant to milk of animal origin and to improve digestion. All of these benefits are accompanied by a delicious taste.
Allergy information: may contain traces of lactose and soya.
HOW TO USE IT
You can use it the same way you use cow milk
Take a glass of almond milk
Add almond milk to your recipes replacing cow milk
*We recommend:
Almond milkshake with fruits
Canellone with béchamel sauce
WHAT IT CONTAINS
100% vegetal
Water, sugar, almonds (5,2%), glucose, emulgent E-472c ans stabilizers E-412 y E-415.
WHAT IT DOESN'T CONTAIN
Gluten free. Choloesterol free. No artificial colours or preservatives. Palm oil free.
NUTRITION INFORMATION
Nutricional analysis
Per 100 grams
Energy value
72 kcal / 303 kJ
Fats:
of which, saturated:
1.50 g
0.24 g
Carbohydrates:
of which, sugars:
13.25 g
9.60 g
Proteins
1.112 g
Salt
0.009 g
(the salt content is the sodium naturally present in the ingredients)