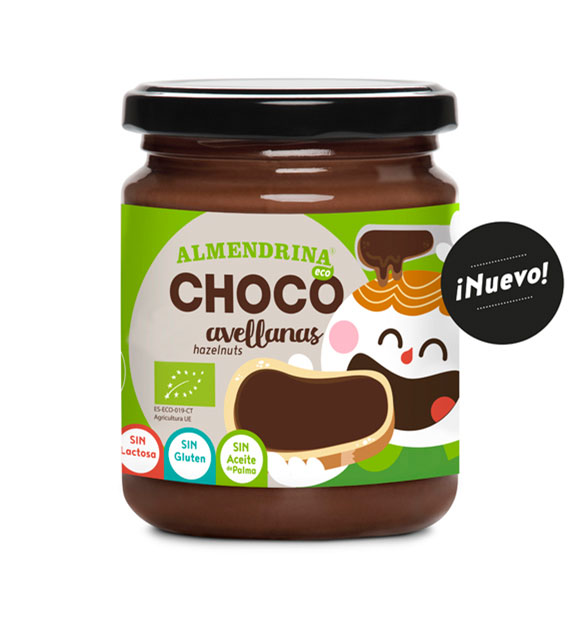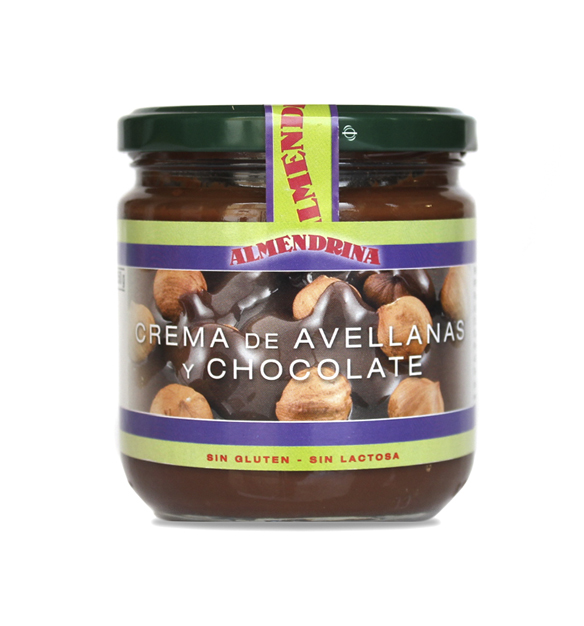 ORGANIC CHOCOLATE HAZELNUT CREAM
The perfect chocolate cream
Our chocolate paste has three special characteristics: it's delicious, it's natural, and it's organic, so you can indulge without regrets. There are no additives because we believe that natural ingredients are the best: we simply mix the ingredients in the perfect amounts. The proportion of hazelnuts is very high, which gives the spread a special taste and flavour. Our strong commitment to quality is backed by an automated process with multiple quality controls.
Hazelnuts grow naturally in mountain areas and are cultivated in many parts of Spain, but hazelnut farming is most extensive in the area called Camp de Tarragona, and the town Reus, the home of Almendrina, is considered the hazelnut capital of Spain. Situated in the heart of the traditional hazelnut farming area and thanks to the wisdom and experience gained over many years, we always work with hazelnuts of exceptionally high quality. Hazelnuts are an enriching part of the Mediterranean diet. They provide monounsaturated fatty acids like omega 3 and omega 6, which help to regulate cholesterol; magnesium, which keeps teeth and bones strong and healthy and reduces anxiety and insomnia; potassium, which regulates blood pressure and protects the cardiovascular system; phosphorus, which provides physical and mental energy and improves memory; vitamin E, a natural antioxidant; vitamins B6 and B9, calcium, iron, zinc, and more.
It is especially recommended for athletes, pregnant women, growing children and people with cardiovascular problems.
Allergy information: may contain traces of other nuts and sesame.
HOW TO USE IT
Spread and enjoy.
Spread on toast.
Add it to your desserts.
*We recommend:
Crepe with chocolate hazelnut cream.
WHAT IT CONTAINS
100% vegetal
Organic-grown hazelnuts, chocolate and sugar.
WHAT IT DOESN'T CONTAIN
Gluten free. Choloesterol free. No artificial colours or preservatives. Palm oil free.
NUTRITION INFORMATION
Nutricional analysis
Per 100 grams
Energy value
600 kcal / 2,489 kJ
Fats:
of which, saturated:
45.01 g
5.60 g
Carbohydrates:
of which, sugars:
33.00 g
28.19 g
Proteins
12.19 g
Salt
0.0127 g
(the salt content is the sodium naturally present in the ingredients)
VITAMINS AND MINERALS
Vitamin E
2.3 mg