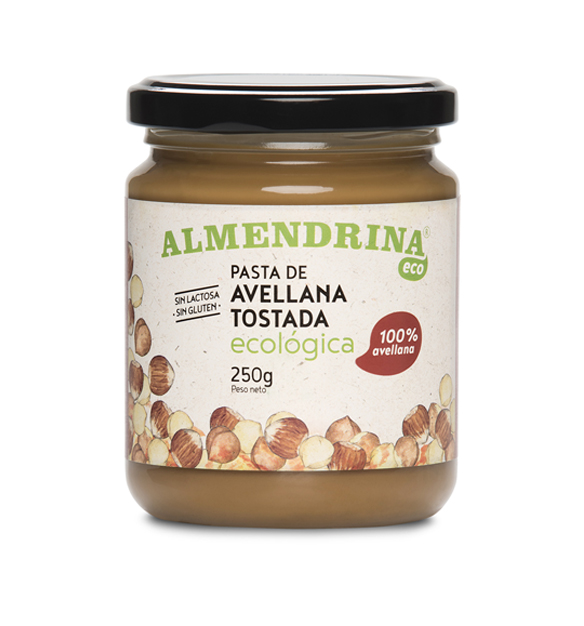 ORGANIC TOASTED HAZELNUT SPREAD

Organic toasted hazelnuts. Nothing else.
Our hazelnut spread is a product of the highest quality with the largest percentage of hazelnuts possible: 100% toasted hazelnuts. It is made with a selection of the very best unpeeled hazelnuts, which are first pasteurized and toasted. The production process is carried out under the strictest conditions for quality control and supervision (with the quality certificate ISO 9001). The almond spread's creamy texture comes from the oil contained in the almonds.
Hazelnuts grow naturally in mountain areas and are cultivated in many parts of Spain, but hazelnut farming is most extensive in the area called Camp de Tarragona, and the town Reus, the home of Almendrina, is considered the hazelnut capital of Spain. Situated in the heart of the traditional hazelnut farming area and thanks to the wisdom and experience gained over many years, we always work with hazelnuts of exceptionally high quality.
Hazelnuts are an enriching part of the Mediterranean diet. They provide monounsaturated fatty acids like omega 3 and omega 6, which help to regulate cholesterol; magnesium, which keeps teeth and bones strong and healthy and reduces anxiety and insomnia; potassium, which regulates blood pressure and protects the cardiovascular system; phosphorus, which provides physical and mental energy and improves memory; vitamin E, a natural antioxidant; vitamins B6 and B9, calcium, iron, zinc, and more. Hazelnut spread is of vegetable origin and therefore appropriate for vegans and for people who are lactose intolerant. It is especially recommended for athletes, pregnant women, growing children and people with cardiovascular problems.
Allergy information: may contain traces of other nuts.
HOW TO USE IT
Spread and enjoy
Spread a toast
Add it to your favorite pastry recipes
WHAT IT CONTAINS
100% vegetal origin
Organic toasted hazelnut.
WHAT IT DOESN'T CONTAIN
Gluten free. Choloesterol free. No artificial colours or preservatives. Palm oil free.
NUTRITION INFORMATION
Nutricional analysis
Per 100 grams
Energy value
578 kcal/2,408 kJ
Fats:
of which, saturated:
42.20 g
4.50 g
Carbohydrates:
of which, sugars:
38.70 g
38.70 g
Proteins
11,08 g
Salt
0.015 g
(the salt content is the sodium naturally present in the ingredients)